Navigate the Future with Our Proven Approach
Embarking on a transformative analytics journey with Evolution Analytics means unlocking unparalleled potential. Dive deep with us as we assess every facet of your business, ensuring you have a clear roadmap to navigate the data-driven world.
Together, we'll lay a robust foundation, modernizing your analytics platform, enriching your data, and championing self-reliance in reporting. But our collaboration won't stop there. As you move forward, we're right beside you, ready to elevate your business practices through our EAAdvantage ™ Analytics Framework.
From identifying prime business opportunities to implementing advanced analytics and automating essential decisions and business processes, we're committed to revolutionizing your operations. Your vision, coupled with our expertise, sets the stage for a future where we rise to new heights together.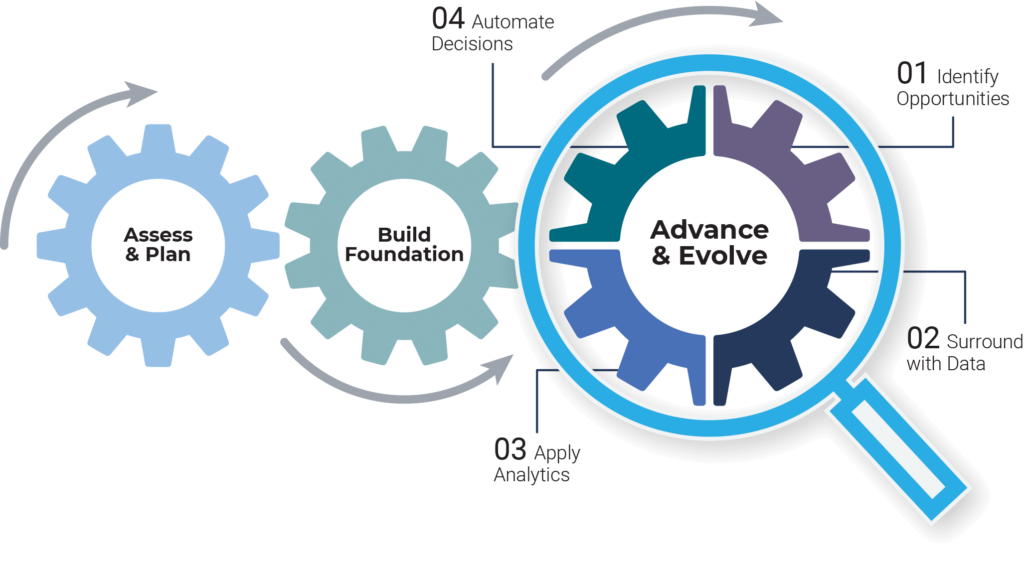 Assess & Plan: Laying Groundwork with Precision
Comprehensive Review: Join forces with our senior advisors to meticulously assess your current business units, analytics team and environment, and overall readiness. We don't just skim the surface; we dive deep across our four foundational pillars: business and insights, data and processing, technology and architecture, and governance and organization.
Identify, Analyze, Prioritize: We'll sift through to identify and spotlight business opportunities, analyze them to understand dependencies, and prioritize them in terms of value and feasibility.
Build the Case: As we craft a robust business case, we'll also champion the vision of data evolution within your enterprise.
Develop a Plan: With a clear roadmap in hand, you'll be poised to kick-start your analytics journey with conviction.
Build the Foundation: Establishing a Robust Base
Setup Analytical Platform: Our data analytics consultants take the lead to refine or establish your analytical platform, propelling you into the modern age of analytics with tools like cloud platforms, DevOps, and automated workflows.
Unveil Core Source Data: Central to our strategy is highlighting your core internal data sources, facilitating seamless cross-system analyses.
Enrich Business Data: Amassing data isn't the endgame. We're here to ensure it's standardized, streamlined, and integrated to genuinely mirror your business's essence. This may include Data Warehousing techniques, Master Data Management, and more.
Reporting and Empowerment: From intuitive dashboards for in-depth analyses to fostering a culture of self-reliance in reporting, we've got you covered.
Governance and Training: By establishing a firm foundation of governance and offering custom training, we empower your business and analytics teams to soar with the new platform.
Advance & Evolve: Real Transformation Awaits
The Growth Phase: While many facets of your business may now benefit from enhanced reporting, the true metamorphosis begins here.
Iterative Excellence: Our senior consultants will collaborate with your core business unit leaders to revisit and refocus on business opportunities and tackle the most promising challenge.
4 Key Steps to Drive Your Evolution: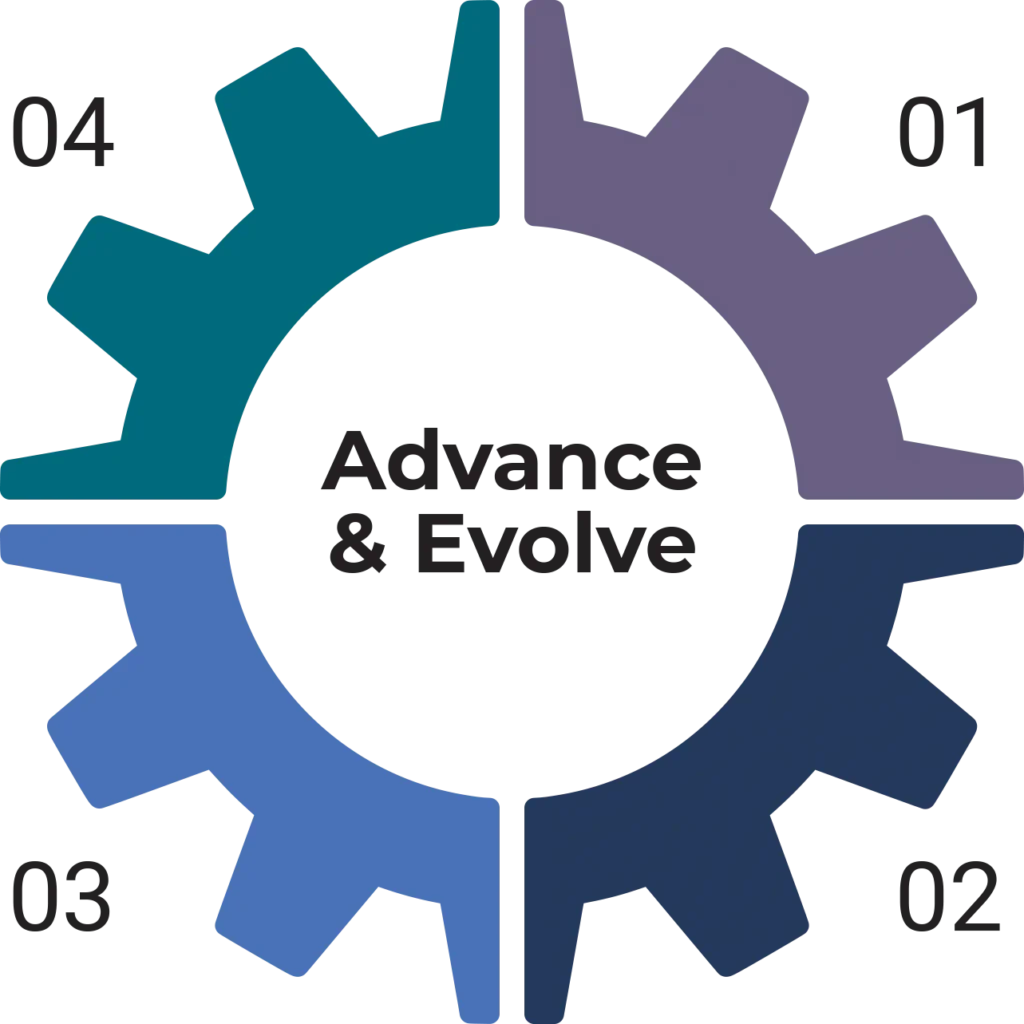 Identify Business Opportunities: Detail challenges, crystallize success markers, and establish required processes and metrics.
Surround the Decisions with Data: Enrich decision-making with the inclusion of additional data sets, be it internal or from third-party sources.
Apply Analytics and Insights: Harness the power of advanced analytics including AI/ML, advanced algorithms, compelling visualizations, and analytical applications.
Automate and Elevate: Transform operations with actionable insights, and automating key decisions and business processes.
Evolution Analytics: Where Your Vision Meets Our Expertise. Embark on a transformative analytics journey, tailored to elevate your business to unprecedented heights. Let's champion the future, together.